Get Your Mouth Off of My Uterus
By Lisa W. Tetting
Guilt…
Societal Pressure…
Pleasing other people…
None of these are good reasons to have babies, yet plenty of women fall into the trap of doing just that. I've been asked countless times from mothers who look like they are on their last legs 'when are you going to have some children?' I usually scoff and reply NEVER! To that they usually look at me as if I grew a second head right before their eyes. When I was younger, it used to enrage me to be asked this question. I wanted to scream GET YOUR MOUTH OFF OF MY UTERUS! You can't really say this type of thing and not offend people. Now that I am a woman of a certain age, I find their inquiries quite humorous.
It is not exactly fun to have strangers all up in your personal business trying to figure out a puzzle that doesn't exist. I DON"T WANT KIDS! That is all! There is no complex equation to figure out, no further conversation to be had. People just can't believe their ears. Their brains are so wired to follow society's expectations that they start making up reasons why I should reconsider.
"You'll change your mind when you get older." – Nope, I may not look it, but I am 49. How much older do you want me to get?
"You and your husband would make beautiful babies." – Yes, I am in an interracial relationship, but that doesn't guarantee a beautiful child. Even if the baby was beautiful, is that supposed to make me want it? Vanity isn't a reason to have a baby. What's wrong with these people?
My favorite reactions are those of shock and disgust. They really entertain me for days
at a time. The 'you're so selfish' looks or the 'what's wrong with you' disdain that shows is hilarious. These types are so set in their way of thinking there is no need in explaining. They will never understand. If you are one of those people, I implore you to please stop asking women questions you don't want the answer to. In fact, please read this post and those of the other ladies who were brave enough to bear their souls for this project. You might learn a lesson in how to mind your business and stop judging people for their life choices.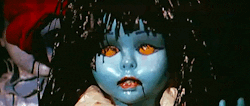 I have never wanted babies. Sure I played with the creepy little dolls just like all of the other little girls. However, the brainwashing never took hold. As a child I was very observant. I watched while the other girls were feeding and pampering their Baby Alive dolls and it wasn't appealing to me. I had the same doll and I preferred to play in her hair, but then I would leave her lying in a corner forgotten when the next toy captured my attention. As I got older I found myself annoyed by other kids. I preferred the company of adults. As long as I sat quietly and observed without interjecting my opinion, my parents would allow me to be present when they were entertaining. Most of the time, they never even knew I was in the room. At an early age, I acquired the skill to be neither seen nor heard. I learned a ton of information hanging with adults that I would have missed out on if I had been playing with the other kids.
My annoyance with children continued into my teens. When faced with having to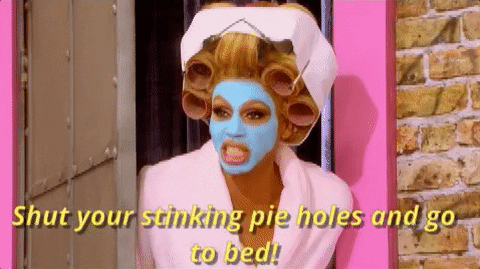 babysit my siblings' children, I was not happy. However, as the youngest in the family, I really had no choice. Everyone would get dressed, leave their kids in my care and go out to have fun. I hated every minute of it and watched the clock like a hawk. When bed time came around, I couldn't wait to put those kids in bed so I could be rid of them. I love my nieces and nephews, but I don't do kids. That feeling only magnified with age. I have been asked a few times in my adult life to watch other people's kids, and I cringe when I think about it. I try my best not to hurt people's feelings, but you can't really say I don't want to be around your kid without angering people.
I get it. People are conditioned to believe that because it is their kid, people who are not into kids should make an exception and be around them anyway. Of course, their child is different. This is where I roll my eyes. Your child isn't any more special than the next. As far as I am concerned, they are all in the same category: Speak, give them a toy or some candy to keep them quiet while I enjoy hanging out with the adults and then they go home. No matter how cute they are, I do not want a relationship where I have to be alone caring for them. I might be too honest here, but it is the truth.
It astounds me that people that I have known for years, some most of my life, will continuously try to get me to change my mind. Some try by forcing their kids on me. I had a work acquaintance once who was convinced that all I needed was to spend more time around children, and I would suddenly get baby fever. The chick had known me for a month or two, only at work mind you, and decided I was the perfect person to be her 12 year old daughter's godmother. She must have been smoking glue or something because a preteen was the last thing I wanted or needed in my life. I tried to tell her it was a bad idea, but she was insistent and rather pushy! She pretty much forced her child on me. The poor child was told she was going to spend time with this strange woman who she had never even seen before.
Truthfully, I had no idea what to do with a twelve year old. My husband, who has no experience with kids either, was recruited to help. With the mother's permission we decided to take the little girl to Dave and Busters for an afternoon of video game fun. We purchased a card and allowed her to play her heart out. I am not any good at games, but I like to play, so I joined in from time to time. My husband likes video games so he was able to relate more.
After we left the arcade, we decided to take the little girl out to eat. This was a treat for her because her mother was a single mom with four kids and they rarely went to restaurants to eat. Well, obviously I had no idea what I had gotten myself into. The child ate like she hadn't eaten in days. I never should have told her to get whatever she wanted. That was my fault. It wasn't that she was hungry, per say, she was just excited to be able to eat what she wanted. I guess she said she was going to eat until she couldn't anymore. The child ate more than me and my husband combined. She had so much food that she ended up taking a doggy bag home.
After taking her home I looked at my husband and was once again thankful he didn't want children. I hate to say it, but that afternoon just reinforced everything I already knew. Kids were not for me. Don't get me wrong. The girl was a great kid, but I knew before taking her out that I didn't want to do the godmother thing. Soon after the outing, the mother stopped working at my job and we lost touch. I felt bad that her daughter was put in that position. I know that children get attached quickly. That was another reason I didn't want to get her hopes up. I wish her mother would have listened. Really, I think the woman just needed a babysitter.
After reading my post, I hope people will realize that not everyone is cut out to be around kids, let alone raise them. I really believe that there would be fewer abused and/or abandoned children in the world if their parent would have been strong enough to say no to the pressure of having an unwanted kid. If you are in this position, please do yourself and the possible child a favor by listening to your heart. There is nothing sadder than an unwanted child. Don't have a baby to satisfy someone else's dream. That is most selfless thing you could ever do.