Hi Lovies,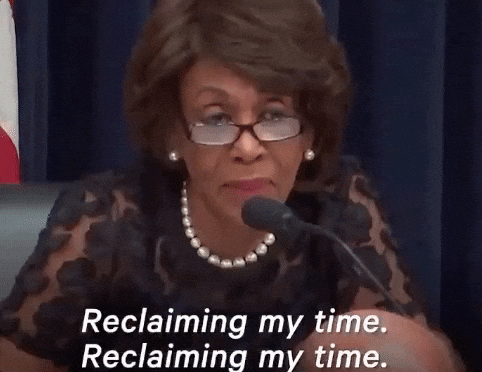 Recently Social Media was all abuzz about Rep. Maxine Waters and her now infamous power play to reclaim her time. Though I was thoroughly entertained by Auntie Maxine dragging Treasury secretary Steven Mnuchin for filth, I also felt inspired. I sat down and pondered exactly what that statement meant to me. How can I reclaim my time? Do I have regrets? Will other people start reclaiming their time, as well?
I have wasted a lot of time in my lifetime. No, I didn't do it purposefully, but I did it all the same. Mostly, I did it out of FEAR – FEAR of the unknown, FEAR of success, and sometimes FEAR of greatness. I have always started things and when I received accolades or pats on the back, I pulled away because I was afraid to really see how high I could go. I have done that most of my life, with a couple of exceptions. I have never been afraid to throw myself into a loving relationship and in my forties, I finally decided to follow one of my hidden dreams of becoming a writer.
Falling in love has always filled an emptiness in my soul, even if it didn't last. It is ingrained in me to love and be loved. I don't think of it consciously, but I feel it in everything I do. I am simply not one of those people who have to be in a relationship all of the time. In fact I enjoy my own company very much. However, when I was given the gift of love from the man of my dreams I was ecstatic. We latched onto each other and haven't let go in 22 years. It is the one relationship that I have where I feel safe, but if  God forbid it were to end tomorrow, I wouldn't regret giving my all to him. There would be no reason to reclaim my time with him. Doug has changed my life for the better and I will always be grateful.
Becoming a writer was a secret dream that I kept close to my heart for many years. I have been enamored with reading since I can remember. Books contained my best friends and all the adventures in the world. In fact, as a young girl I would spend hours up in the willow tree in front of my house reading. My mom would look for me everywhere and never could find me. It was my sanctuary and I knew once it was discovered, I would be forced to act like a girl and stop climbing trees. I wasn't wrong. When I was discovered in the tree taking a nap one day, my book in my lap, my mom forbid me from climbing trees. I still did it anyway and accepted the punishment when or if it came. Eventually she decided it wasn't worth the aggravation and left me alone. When we moved from that house, I wanted to pack up the tree in a box so it could go with me.
Growing up in a small town in the South, I was subjected to many limitations – one of which was girls didn't become writers – especially black girls. Imagine my surprise one day at school when a tall prim and proper black lady walked into my class wearing horned rimmed glasses and  a scowl on her face. She was a substitute teacher, retired from the profession but filled in from time to time. Mrs. Stitt controlled the class with an iron fist, but I saw a twinkle in her eye when she spoke of literature. She never knew this, because I was afraid to talk to her, but she was an inspiration to me. She informed the class that she was a published author and in fact we had her book in the school library.  I never made time to read her book, but her words let me know it was alright to dream of being a writer. It was suddenly possible because someone that looked like me had done it. I kept that memory close, but still I wasted years writing poems and short stories and keeping them to myself.  Most of them have been lost in the shuffle of life, but I still hold them in my heart.
 Finally one day I was sick of going to work and having to stifle myself. My true feelings  were always hidden behind a mask if I wanted to keep my job. Well as best I could. My manager was always getting on me about my body language and facial expressions. Hey, I am a creative soul and my feelings are worn on the outside. I look back now and see that I decided to reclaim my time even before I knew the phrase. I was about to get serious about my craft. Since then I have written and published five books in the past two years. (Four under a pen name) However, I have not been a diligent as I could have been. I need to focus more and dedicate myself to writing every day. I have decided to write more posts on my blog as well! I am excited about this prospect because I can interact more with you guys. Still no regrets, simply reclaiming my time!
So tell me, what have you done to reclaim your time? Don't worry if you haven't started, simply make a plan and execute. Thanks for reading and remember…